How to Play Online Craps for Real Money
Learn how to play craps online for free. Before you step up to any craps table, learn the most basic bets you place and how to play a round of craps. Craps is a fairly easy game to play. However, it can also be very intimidating if you are not sure how to play.
Craps offers hours of entertainment. If you walk through a casino, you can hear the excitement by all the cheering at the table. However, before you get in on the action, we recommend you learn the basics of the game. The one thing that sets craps apart from others is that it the only casino game where players can decide their own fate. We offer a comprehensive craps tutorial guide with the full rundown on the rules, house edge and payouts.
The Craps Table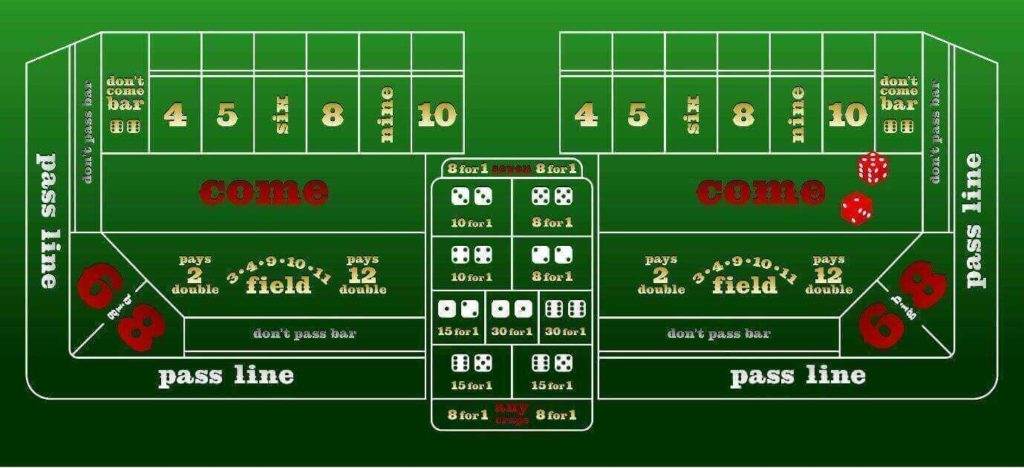 How to Play Online Craps Guide
Craps is an online gambling game featuring a number of different betting options. Let's a take step back and look at the basics first. Below is a step by step guide to walk you through the basics.
Step 1
Craps is a game of rounds. Before any round starts, players need to place their wagers. The most basic bet to play is the Pass Line Bet.
Place this bet on the area marked "Pass Line" on the craps table.
This is a series bet, meaning the person rolling the dice (the shooter), may need to roll the dice multiple times before someone wins.
Step 2
The first roll takes place. This first round is called the come-out roll. This first dice roll determines how the rest of the game is played.
If a 7 or 11 is rolled, all Pass Line bets will win. The round will then end.
If a 2, 3, or 11 is rolled, all Pass Line bets will lose. The round will then end.
If a 4, 5, 6, 8, 9 or 10 is rolled, this number will become the point. The round will continue.
Step 3
When a point is established, the shooter will continue to roll the dice. The aim for the shooter will be to roll the point number before a 7.
If the shooter rolls any number other than the point or 7, the round continues.
If the point number is rolled, Pass Line bets win. The round will then end.
If a 7 is rolled, Pass Line bets lose. The round will then end.
This is a basic guide of how to play craps online. A more advanced complex game involves more betting options.
Basic Online Craps Rules
An online craps table looks exactly the same as a real-life craps table. Craps offers many betting options; the table is marked with all the different bet possibilities. New Zealand players place bets on the number which they feel the two dice will land on. The rules are as follows.
Craps has different rounds.
The first roll of the dice is called the come-out roll and can signal the end of the series.
The come out will end if a 2, 3, 7, 11, or 12 is rolled.
If any number between 4 and ten is rolled, another round is triggered.
This round is called the point. The point will be the number rolled from the previous round.
When a point is rolled, players must roll the dice again until the point is rolled to win or 7 to lose the round.
Online Craps Mistakes to Avoid
Crazy Vegas Casino has compiled a list of common mistakes made by new craps online players. Follow these simple steps and avoid making the following mistakes;
Learn the game
If you want to enjoy playing craps, you first have to learn the game. For all those hands-on players; have our craps glossary, betting options and tips pages open while you explore craps games online. Craps is a complicated game, yet highly enjoyable. To win at online craps, you will need to be an experienced player. Taking the time to learn the game. Craps online games can be lucrative, do not miss out on opportunities to win big real money prizes.
Avoid bad bets
The advantage of online craps games is that you have all the resources you need to win. Strategic craps players are aware of bad bets such as Big 6 or Big 8. Learn which bets favour the house least. Players can refer to our betting options page to see all the good and bad bets.
Play craps at the Best Online Casinos
Find reputable casinos sites where you can play online craps. The best casinos are usually licensed and regulated with gambling regulatory bodies. New craps players should look for casinos which offer 24/7 customer support, safe and secure banking transaction methods as well as other fair casino practices such as responsible gambling information.
Free games and offers
During your learning process, make sure to use free online craps games. Many top casino sites offer free craps games which players can download and play from their mobile devices. It is highly advisable that New Zealand players practice as often as possible with free craps games. When players engage in real money craps games; they should look out for bonuses offered specifically for craps. Top internet casinos often include bonuses and promotions designed especially for craps players.
Chasing losses
Craps is a game of chance; this means that luck has a bit of a role to play. If your real money winning streak comes to an abrupt end; the best thing to do is log out and play another day. A common mistake many casino gamblers make is to chase their losses.
New Zealand craps players need to manage their bankroll. Players can set a loss limit, and target wins. Remember always to bank a percentage of your winnings. Do not get greedy – the aim is to have fun.