Best Table Games for Real Money
Table games online refer to the same casino games you would find at a New Zealand land casino. These include the likes of blackjack, roulette, baccarat, craps, and other popular table games online. Since the invention of online casinos, you can now enjoy a wide list of table games straight from the comfort of your home. Online casino table games have not just introduced convenience, but they've also opened up to a market who were always intimidated to play table games. On a real casino floor, the best table games are often filled with high-roller players, who bet above your budget. Thanks to online casinos, anyone can now play table games online for real money. Before you start, first select a casino from our list of top-recommended table games casino sites below.
Play Table Games at the Best Kiwi Casinos Online
Rank
Gambling Site
Deposit Bonus
Get Started

#1

600+ Pokies and 98% PayoutNZ $

0

BONUS


Visit Site





#2

150+ Pokies and 98% PayoutNZ $

0

BONUS


Visit Site






#3

150+ Pokies and 97% PayoutNZ $

0

BONUS


Visit Site






#4

150+ Pokies and 97% PayoutNZ $

0

BONUS


Visit Site






#5

150+ Pokies and 98% PayoutNZ $

0

BONUS


Visit Site





Most Popular Casino Table Games Online
All reputable online casinos will offer a wide variety of the best casino table games in New Zealand. Before you join any online casino, make sure they have a selection of popular casino table games list.
Online Roulette
Almost every online casino player will have seen a roulette wheel at a land casino before. You play this game the exact same way at an online casino. Players simply place their bets on where they think the ball will land on the roulette wheel before the croupier spins it. Roulette has one of the biggest selection of bets that players can place, all with different payouts. This is one of the most popular games to play at the tables, and now you can play it right in your living room.
Online Blackjack
Online table game players will know that casino games don't come any bigger than with blackjack. This is one of many online table games played with cards, but one of the most popular table games nonetheless. Blackjack is all about beating the dealer's hand without going bust. To beat the dealer, you need to get a hand total of 21 on your first two cards or get closer to 21 than the dealer's hand. Watch out for going over 21 though as a bust means an immediate loss.
Online Baccarat
This card game possibly requires the least from online casino players out of all other table games. Card and table games online like baccarat are easy to play and even easier to win because of the betting structure. While players aim to get a hand total of 9 or as close to it as possible, the real winner is the player who bets on the winning hand. In baccarat, you can bet on your hand, the dealers or a tie result. This gives you every possible chance of winning.
Online Craps
When you play casino tables games like craps, they're best enjoyed on the internet. Craps is a complex table game with a lot of betting options available at different stages of the game. Online craps is a dice game where the outcome of every round is decided by the role of a pair of dice. However, don't be discouraged from playing this highly lucrative table game online as it promises great payouts and a really fun time.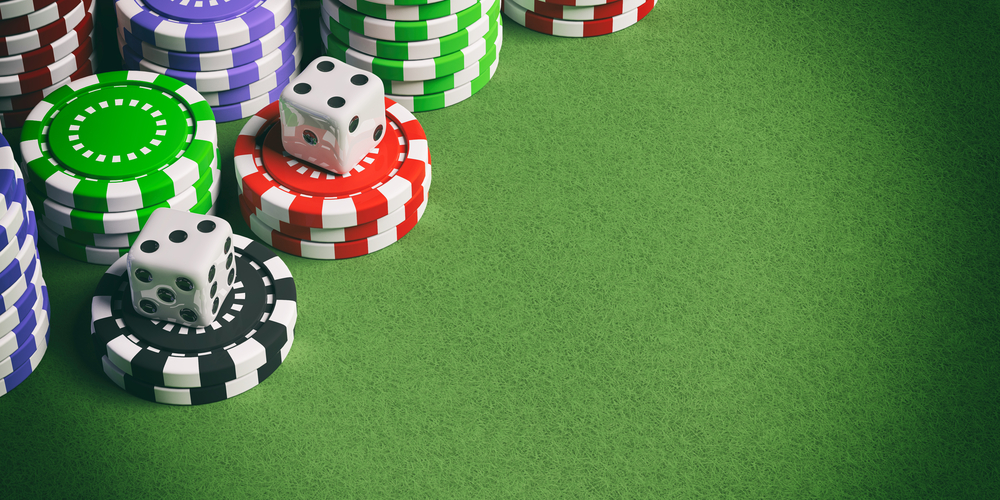 Gambling Table Games Tips
While most casino games are won by chance, some table games introduce some room for skill and strategy to be used. Although every table game has its own house edge already set, you can still win big if you follow our top tips for gambling online with table games.
Learn table games online for free: Before you start betting real money while you play casino table games online, first get to know the ins and outs of each game. Leading online casinos all offer free table games that you can practice on for as long as you need to. Use this feature to learn more about how to play each game and its betting structures. This will also allow you to figure out which game you favor and have more luck with.
Use a table game cheat sheet: Various online casino sites will offer cheat sheets that you can keep open while you play table games online like blackjack and craps.
Use the table games online free time: You won't be rushed to place bets when you play casino games online because everything takes place through the online casino software. Think carefully before wagering and don't rush a bet because you have free time on your hands, even when playing for real money.
List of Live Table Games Online
New Zealand players looking for a more realistic casino experience should try out live dealer games online. Live table games are a feature at all the top casinos online where a real-life dealer is streamed on your computer screen through your active internet connection. These games give you the feel of a real casino while you play in the comfort of your home. The best live dealer table games you can play online include:
Live Blackjack
Live Roulette
Live Baccarat
Free Online Table Games for Mobile
You don't ever have to get stuck playing your favorite online table games behind a desk. Mobile table games are the next level when it comes to online gambling. If you have an Apple or Android device, you can play online casino table games for real money too. Mobile casinos are optimized for smooth and seamless gameplay, and all you need is a good internet connection. You can also learn how to play table games on your mobile by trying any of the free mobile table games.
Play Table Games Today at Leading Online Casinos
Players are spoilt for choice when it comes to choosing a market-leading gambling site at Crazy Vegas. We've listed only the best in the industry for you to play at without any hassle or problems. Select your preferred gambling destination from the online casinos listed above, and you'll be in for the experience of a lifetime!